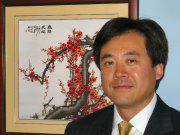 As a third generation Traditional Chinese Medicine (TCM) doctors, Mark Xu's main priority has always been bringing quality healthcare to our community. He thrives on promoting wellness, harmony, and balance through Traditional Chinese Medicine.
With 27 years experience in the medical field, Mark Xu is a licensed and certified acupuncturist and herbalist that have helped thousands of patients throughout the years. He is highly sought after and acknowledged for developing custom wellness plans that target and treat each and every patient's specific conditions and needs. He works dutifully advocating optimal health by creating unique, innovative wellness programs that motivate the body to heal itself, which in return address a wide variety of issues, disorders and imbalances within the body.
Mark Xu isn't afraid to take on difficult cases either, his programs benefit all types of pain sufferers regardless of their aliments. He also recognizes the need in Traditional Chinese Medicine for more than just physical ailments.
Mark Xu has had several notable studies and articles published on him for his success in helping couples conceive naturally. He has expertise in healing displeasing skin conditions using 100% herbal and natural remedies. He's passionate about managing chronic illnesses and helping his patient's live happy, healthy lives. Mark Xu recommends Traditional Chinese Medicine as preventative care, not just for treatment after an onset of illness.
If you are still in doubt about how TCM can help you, rest assured Mark Xu has dedicated his life to delivering quality Traditional Chinese Medicine in our Western world.
"Sixteen months after crushing a vertebra in a snowboarding mishap, I was in near constant pain, gobbling Ibuprofen like M&Ms. A veterinarian of my acquaintance, who has had good results using acupuncture on dogs (no placebo effect there!), suggested I try acupuncture. With no small degree of skepticism, I set up an appointment to see Dr. Xu. After the first treatment, the frequency and intensity of the pain was markedly reduced. After several more weeks of treatment, I feel much better; the pain is an occasional, minor annoyance. And I have even, almost, come to enjoy the taste of the herbal teas Dr. Xu prepares! As one who came to this branch of medicine with no serious expectation of positive results, I am surprised and pleased. I highly recommend Dr. Xu to anyone who suffers long-term pain that has resisted other treatments."
Cliff
Unsure about whether or not acupuncture can benefit you? Check out our blog post "What is Acupuncture?" and learn more!