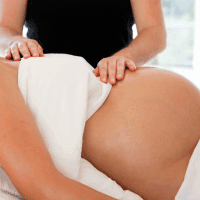 Prenatal Massage
Pregnancy puts a lot of stress on the body in different ways. A woman's body must adapt to carrying a child, and this can put a lot of strain on different parts of the body such as her back, abdomen, shoulders, pelvis, legs and feet. Even arteries, lymph vessels, and veins have to get used to carrying a child. Relaxation is key to keeping an expectant mother comfortable. The prenatal massage is specially tailored to fit each mother's needs at that time.
Another reason for discomfort during pregnancy is the secretion of a hormone known as "Relaxin." Just like it's name suggests, it relaxes the ligaments and joints in the body so when it is time to push the baby out, the body will be able to do so easily and without putting itself through any unnecessary stress. While this is a nifty little hormone, it doesn't always happen without drawbacks. "Relaxin" isn't too picky on what kinds of joints and ligaments become loose, and this can result in slipped vertebrae, joint pain, muscle pain, interrupted nerve supply to muscles, or uneven hip joints. Muscle spasms can occur because the muscles are trying to stabilize the loosened joints. A prenatal massage can help give the expecting mother relief from this condition.
Benefits of Prenatal Massage
The relaxation and relief an expectant mother receives from a prenatal massage can be profound. Here are some examples:
It can help stabilize hormone levels.
It can help increase overall circulation.
It can help increase blood and oxygen supply.
It can help stimulate lymphatic movement.
It can help control varicose veins.
It can help reduce swelling.
It can help increase muscle tone.
It can help to relieve pressure from the back and shoulders.
It promotes nerve health.
A prenatal massage is one of the most pleasurable ways for an expectant mother to help herself in maintaining health and sustaining energy levels.
A Couple of Common Questions About Getting A Massage
What Can I Expect From My First Visit?
When you come for your first visit our front desk staff will give you the proper form to fill out or you can download it here and simply bring it in. The massage therapist will go over the paperwork with you, after they bring you to the room where they will be working on you, and ask a few intake questions that they deem necessary. All therapists have a method to their massage and at this time they should explain their routine as well. They will then leave to give you privacy while you get on the table.
Do I Need To Be Completely Naked?
It's all about your comfort level. If you feel most comfortable wearing underclothes, the massage therapists will understand. If you prefer to remove all your articles of clothing then you may do so. Our therapists keep your complete comfort in mind and will not judge you for your choice.
Do I need to book in advance?
Unfortunately you do have to book in advance. Our slots get filled up quickly, so please call as early as possible to ensure that a room is available. Simply call us at (901) 737-8282 to speak with our friendly staff and book your appointment.
60 minutes –    $85
90 minutes –    $105
*Please check Monthly Specials tab for discounts